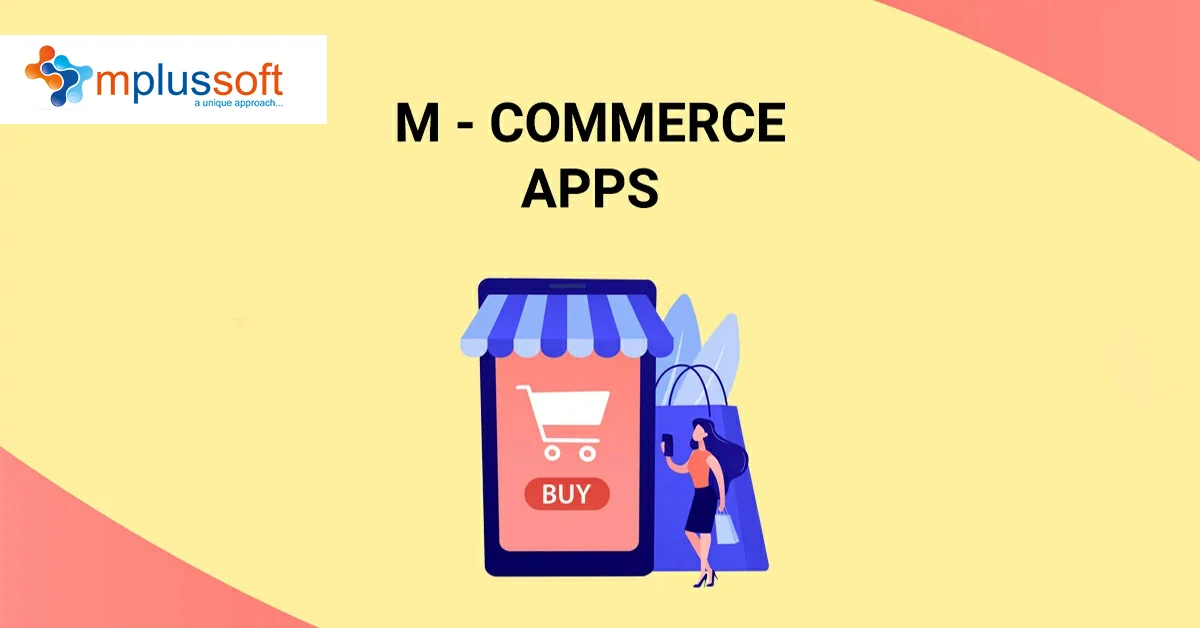 M-commerce Apps
M-Commerce refers to apps that are designed primarily for use on mobile devices. These apps allow consumers to perform transactions on their mobile devices. The Mobile Commerce market is experiencing rapid growth every year.
Businesses are adopting this technology quickly to benefit from the new business technology to improve efficiency. Many merchants have already taken advantage of m-commerce apps, and these apps are quickly overtaking traditional methods of payments in terms of relevance.
Mobile commerce apps are reshaping the entire planet, with maximum merchants now accepting mobile payments for goods and services. It's important to discuss what m-commerce is, its types, benefits, applications, and give you some tips to consider when launching an m-commerce app.
What is Mobile Commerce or M-Commerce?
Mobile commerce refers to the purchase or sale of goods and services via mobile devices, like smartphones and tablets. At its core, mobile commerce is all about providing customers with a better and faster experience when they shop online. This improves online sales and can generate massive profits for companies that successfully move their businesses to mobile devices.
In India it's still a relatively new concept for most people so starting a mobile app can seem daunting but this blog will provide a lot of helpful information for those who want to take their business online via this medium.
Types of M-commerce apps
Shopping Apps
These are regular e-commerce apps that can be used on any mobile device or tablet. In the last few years, mobile shopping has exploded. Most consumers now look at online purchases before going into conventional retail stores.
Examples of shopping apps are Amazon, Flipkart, and Tata 1mg - Online Medical Store.
Finance Apps
With finance apps, users can access their bank accounts instantly and easily. Using these apps, transacting becomes easy no matter where you are. These apps make it possible for people to manage their finances like banking, debit cards, credit cards, and investments on their mobile devices making it easier for people to manage their expenses and save money.
There are many banking apps available today for managing finances.
Examples of Finance Apps are HDFC Bank Mobile Banking, i-Mobile Pay by ICICI Bank, and YONO SBI: The Mobile Banking App.
Mobile Payments Apps
Mobile payments apps are also known as Digital Wallets. These apps are usually linked with the bank account of the user. The digital wallet is a reliable way to keep the money secure and out of reach of thieves.
Unlike physical cash or a checkbook, digital wallets don't have any personal information attached to them like your name, address, or confidential details. You can securely send payments using these apps across multiple online platforms without verifying identity using debit cards, credit cards, or Unified Payments Interface (UPI).
Examples of Mobile Payments Apps are: PhonePe, Google Pay, and Paytm
Benefits of Mobile Commerce Apps for Businesses
Online Shopping Experience.
The online shopping experience for customers is different from the offline experience. This aspect is regarded as the main factor for the decision to buy online or to purchase a product offline.
Research shows that customers prefer shopping on the Internet and these days most of them go through their whole purchase process on the internet.
In India, considering that nearly most of the customers now purchase their goods online, companies have to learn how to cater to this growing demand for online shopping by providing them best products at the lowest prices and making it easy for them to pay online using mobile commerce apps.
Marketing Channel
In the M-Commerce business model goods and/or services are sold online and the internet has made it easier than ever for businesses to market their products online.
The growth of social media has made it even easier still it is challenging for entrepreneurs to get noticed by buyers of all ages. This is particularly true if you are selling your product only on the website.
One way you can overcome this difficulty is by building your own app and implementing payment options inside the app to make the buying process easy for the customers. With this approach, you can reach a broader audience while also growing your existing business.
This is the real power of m-commerce: by reducing friction and making things more accessible, it opens up whole new markets for startups and existing businesses alike.
Potential Growth
According to eMarketer, global e-commerce sales saw a 25.7% increase in sales in 2020 to $4.213 trillion and it is anticipated that retail e-commerce sales worldwide will increase 16.8% this year to $4.921 trillion.
It is estimated that in 2021, 60.8% of retail e-commerce sales will originate from the Asia-Pacific region.
Last year due to the pandemic, e-commerce sales skyrocketed, and this trend will continue this year also. As per the report India, Brazil, Russia, and Argentina are all projected to post at least 26% growth in retail e-commerce sales this year.
Cost reduction and Productivity
One of the best ways to cut down on your costs and speed up your productivity is by using an M-Commerce app. You can take advantage of many features that were previously available only to offline business owners.
Customers can save money by using the app to save time when checking out and shipping. M-Commerce apps also make it easier for customers to get their products from only one place instead of going through multiple steps.
M-Commerce apps can help in cutting costs and improving productivity by reducing store employees. In addition, M-Commerce apps allow customers to make payments with their preferred payment methods like digital wallets and other payment apps.
Wrapping it up
Mobile technology has improved the way we live our life. Using our mobile phones, we accomplish a lot of work these days. This is why mobile commerce has evolved to this point.
The above blog shows high expectations for the future of M-commerce, its types, its benefits, and every other aspect of it. Mobile commerce in the future will be no different from what it is now. It will continue to grow and evolve, and we can expect a lot more developments and improvements in this area.
Please share this blog with as many people as possible and if you need any help regarding M-Commerce apps then our app development team can assist you in achieving your goals. Don't hesitate to contact us at +91 84596 30022 or visit us - at www.mplussoft.com.