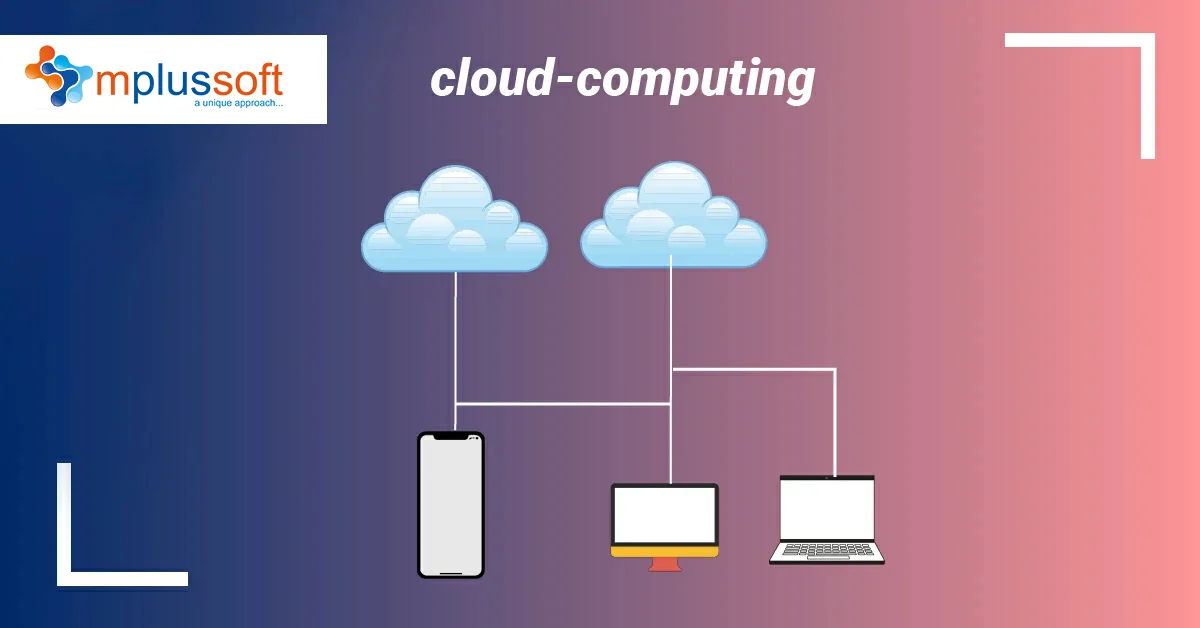 Cloud Computing


Cloud Computing is a relatively new term for most people and in fact, very few people actually know exactly what it means. There is not much understanding of the term beyond a vague recognition. But those who have more technical knowledge know that cloud computing means a lot of things, but one thing is for sure, cloud computing is evolving every year. So in this blog, we will discuss the basics of cloud computing, its types, and how it can benefit all types of businesses.
What is Cloud Computing and How does it work?
Cloud computing is a collection of computing resources that includes: servers, data storage, databases, networking capabilities, and software over the Internet also known as a cloud to offer reliability, flexibility, and scalability of resources in a very cost-effective manner.
Cloud computing allows companies to run computing tasks remotely from their own space. In effect, it provides users with an inexpensive way to store and access data as well as monitor software-based applications from anywhere in the world.
The costs are typically lower than creating and maintaining dedicated servers in specialized facilities. Cloud computing subscriptions provide customers with the capability of automating their own applications and services.
Why is it important for businesses to adopt the cloud?
Cloud computing is a cost-effective way to power back-up systems, improve processing power for slow Web pages, and run complex software that would take resources in physical servers to install and maintain. Businesses can save money as well as energy by outsourcing computing tasks to low-cost providers in the cloud. With cloud computing, a company doesn't just save money on facilities costs, but it also gets access to specialized expertise, low-latency access to applications, and the ability to quickly scale up or down new systems without having to invest in tons of hardware solutions.
Types of cloud computing services are: IaaS, PaaS, and SaaS
Infrastructure as a service (IaaS)
This is the simplest type of cloud computing service. Through IaaS you can access basic computing resources like servers, storage, networking, data centers from a cloud provider on a pay-as-you-go or on-demand basis.
Users may scale up or down resources as required using IaaS, which eliminates on-premises data center maintenance cost, hardware expenses, and overbuying capacity in case of periodic spikes in demand.
IaaS solutions allow you to increase or decrease your resources based on demand. In addition to helping you deploy new applications quickly, IaaS improves the reliability of your underlying infrastructure.
Platform as a service (PaaS)
PaaS is a term used to describe cloud computing services that provide an on-demand solution for building, testing, delivering, and managing software applications without the expense, complexity, or inflexibility of doing so on-premise systems.
Cloud provider manages infrastructure (networking, hardware, and virtualization) & platform (OS, middleware, and runtime). They also provide software and hardware tools over the internet to the developers. The goal of PaaS is to make development easier by minimizing the need to set up or handle infrastructures such as servers, storage, networks, databases, and OS.
SaaS (Software-as-a-Service)
SaaS also known as Cloud-Based Software is the most commonly used model. SaaS is a way to deliver software applications over the Internet, either on-demand or via subscription basis. In this model the cloud provider hosts and manages infrastructure (networking, hardware & virtualization), platform (OS, middleware, runtime) & software (data and application).
Users can directly access apps and software programs through the Internet using their mobile phones or PCs. This ability to manage the data and software in the cloud reduces cost and improves responsiveness while providing superior performance and scalability as compared to traditional on-premise systems.
Cloud computing is a big deal for almost everyone who has a business. It's fast, reliable, and inexpensive - most importantly, it keeps you secure and controls your data efficiently. So what does this have to do with the industry? Everything! With cloud computing your online presence can be as reliable as possible with less investment from you - all without having to sacrifice the time, effort, and often highly-priced expenditure you pay for the on-premise system.
It eliminates the expenditure of buying expensive hardware and software.
Operational cost like system updates, new hardware for software is reduced for running on-premise data centers. Manpower and Maintenance cost for managing all the infrastructure is also reduced like wages of employees and energy consumption expenses.
Your company can easily scale up or down its storage and operational requirements to meet your needs, giving your business more flexibility as it grows.
You can have your cloud computing service provider take care of upgrading your system instead of acquiring and maintaining it by yourself. Instead of worrying about technology, you can focus on running your business with cloud computing services.
Updating the whole system is a very time-consuming process. Cloud Computing service providers will update the system to the latest technology automatically instead of requiring an IT department to monitor updates and conduct them manually.
You can save time and money by doing this. It is the provider's responsibility to update its products on a regular basis to ensure consumers have access to the latest technologies.
When compared to on-premise infrastructure, cloud computing delivers better reliability and uniformity. Because the cloud is made up of numerous servers that work together as one, there is no downtime if any one of them fails.
Your company data is replicated at several redundant sites on the cloud provider's network, this is helpful in case of data backup and disaster recovery. The majority of cloud computing providers offer availability 24 hours a day, seven days a week, with a 99.99 percent uptime guarantee.
You don't have to be concerned about losing your data or business application using Cloud Computing. It is safer than using an on-premise software system. Security checks are also conducted more frequently by cloud companies, ensuring that your data remains protected.
Cloud computing service providers also offer Disaster Recovery as a Service (DRaaS). The cloud stores your data securely and is accessible even if your computer crashes or is stolen.
Because of cloud computing, employees can adopt more flexible work habits. Employees can work easily when at home, on vacation, or during the commute (with an internet connection). If you need access to your data while offsite, you can quickly and easily connect to your virtual office.
Conclusion
Cloud computing is a major shift in the way we do business online. It's being used by businesses of every size, from small businesses to large corporations. It offers businesses huge cost savings, allowing them to scale up quickly and efficiently while also giving them access to new features and technologies on an ongoing basis.
It's no secret that big companies are looking at ways to stay ahead of the game as quickly as possible - thus why they're turning to the cloud.
It is estimated that 25% of companies have shifted their operations to the cloud in one year. Cloud Computing is without a doubt the fastest-growing segment of network-based computing. It benefits consumers of all sizes, including basic users, developers, corporations, and all sorts of businesses. Hence, this technology will remain relevant for many years to come.
If you find this blog useful, please share it so that we can help as many businesses as possible. If you want to know more about cloud computing then contact us at
+91 84596 30022 or Visit us @ www.mplussoft.com
We would be delighted to help you!