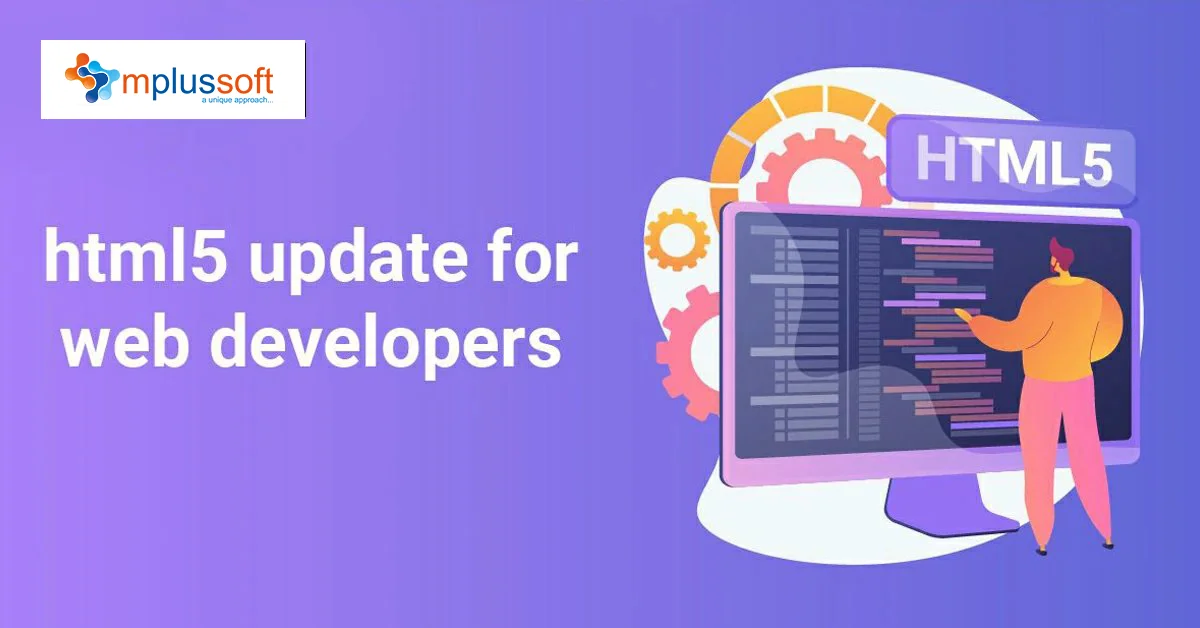 HTML5 Update for Web Developers
HTML5 is the latest evolution of the standard that defines HTML for responsive website design.

It is a new version of the language HTML, with new elements, attributes, and behaviors and a larger set of technologies that allows more diverse and powerful Web sites and applications.
Html5 can be classified into several groups based on their functions to be usable by all Open web developers:
S

emantics: Content can be described more precisely

Connectivity: Communicate with the server in new and innovative ways.

Offline and storage: Webpages can store data on the client-side locally and operate offline more efficiently.

Multimedia: Video and audio first-class citizens in the Open Web.

2D/3D graphics and effects: Diverse range of presentation options.

Performance and integration: Greater speed optimization and better usage of computer hardware.

Device access: Usage of various input and output devices.

Styling: Authors can write more sophisticated themes.
Mplussoft is an award-winning. Website designing company in Pune, India The company specializes in HTML5 and a larger set of technologies that allows more diverse and powerful Web sites and applications.
we also provide digital marketing services, software development, mobile application development, CRM development, and many other related technology services
Mplussoft is a customer-oriented company offering Ecommerce Applications, Open Source ERPs, Web Development, Mobile applications, and Offshore Outsource Services in various technologies. For the welfare of its clients, Mplussoft also steps up for providing Web Hosting, Digital Marketing, Organic SEO, and Ads on Google, Facebook, LinkedIn, and Various other Social Media sites.
Founded in 2011 by three determined minds, Mplussoft's family has grown up to 500+ clients all over the world. Being a young IT body, Mplussoft has clients in India, Saudi Arabia, the US, UK, Australia, South Africa, Singapore, Germany, Canada, New Zealand, and China. We are linked to around 20 to 25 different industries in providing uniqueness to their brand and work. As per our tagline, we precisely believe in having a unique approach. We are serving businesses in extensive web applications, standalone solutions, digital marketing & mobile application development. This can include developing new applications, enabling your existing applications for the web, migrating from legacy applications, optimizing and customizing your existing applications, and more. We have learned to build a superior website that is eye-catching, innovative, and usable. In order to promote your business, you need the best exposure and organic traffic that you can get. For this reason, we will also provide search engine optimization services, which will help you to generate leads, improve recognition, and boost your sales.
Mplussoft is the fastest growing website design company offering win-to-win services at its lowest cost. We believe in offering services for building relationships rather than for making money. Clients can see crystal clear team working, proceedings, right after the project started.
Mplussoft is one of the leading Mobile Application Development, Web Designing, and Digital Marketing companies in Pune. We offer Native, Hybrid, and Gaming Mobile App Development Services. We develop all kinds of apps. Our Hybrid apps are developed in Phonegap Ionic. Our App Developers are excellent in Android and IOS native development. We have extensive experience in building location-based apps like Ola, Uber, etc. Location Tracking, Send Alert, Navigation, Map Marketing are some of the best works in our portfolio. We will be glad to help you with your unique app requirements. Mobile application development can change drastically for your business. If you are an entrepreneur mobile app is perfect for your business especially in this pandemic situation. You just need to map out which app suits your business.
For more info and services across India
Please visit: https://www.mplussoft.com/
or
Call: +91 845 9630 022